FT-DNA file Help

This page has instructions for getting the files you need to load your Y-DNA or Mitochondrial DNA into the mitoYDNA data base. It's divided into separate sections for Y and mtDNA, below. If you have both Y and mtDNA for the same person, you will need to create TWO kits; one for Y and one for mtDNA (they are very different file types). You can manage many kits under one registration.
Y-DNA
mitoYDNA uses Short Tandem Repeats (STRs) to compare for Y-DNA. It does NOT use any Single Nucleotide Polymorphisms (SNPs) or BigY500 BAM.
File Method
To find your STR files, Login to your FT-DNA account. Click on the "Y-STR Results" button.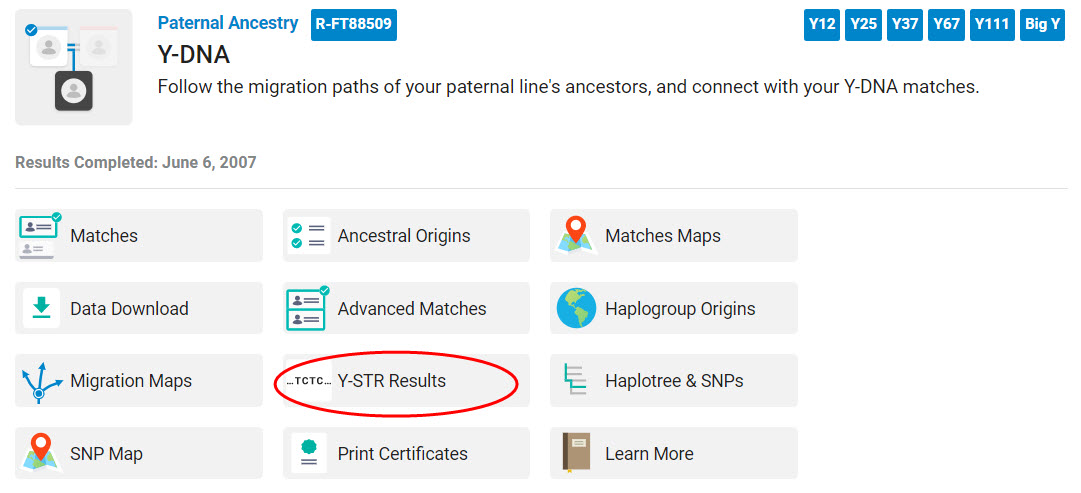 At the bottom of the page (you will have to scroll down for results greater that 37), click on the orange "CSV" download button to get your results file to load into mitoYDNA. Note: at this time, all markers will be stored but ONLY up to 111 markers will be compared at mitoYDNA.


Manual Method
We strongly urge you to use the CSV file to load your FTDNA results. But if you have deleted your account and ONLY have the PDF file (or paper) list of your STR alelle values, you can manually enter your results. Note: you will only be able to enter 37 (or less) markers for FTDNA; anything higher must use the CSV file to eliminate the possibility of incorrect entry. Don't select a file on 'Choose File' when creating a kit and you will be taken to the Manual Entry screen to enter each DYS number.
---
Mitochondrial DNA
Login to your FT-DNA account. In the mtDNA section, click on the "Mutations" button.


Full Sequence -or- HVR1 & HVR2
mitoYDNA uses the results from the "
rCRS Values
" tab on the results page. If you have done a Full Sequence mtDNA test or an HVR1/HVR2 test, there is a Google Chrome extension available to create the CSV file for input to mitoYDNA. After you have installed the extension, a new button will appear on your mtDNA results page. Click that button to create the .CSV file for uploading to mitoDNA later.
Note:
if you are a Project Admin and have "linked" to a member's FT-DNA page from the project, the Extension button will
NOT
appear! You have to login directly to their account.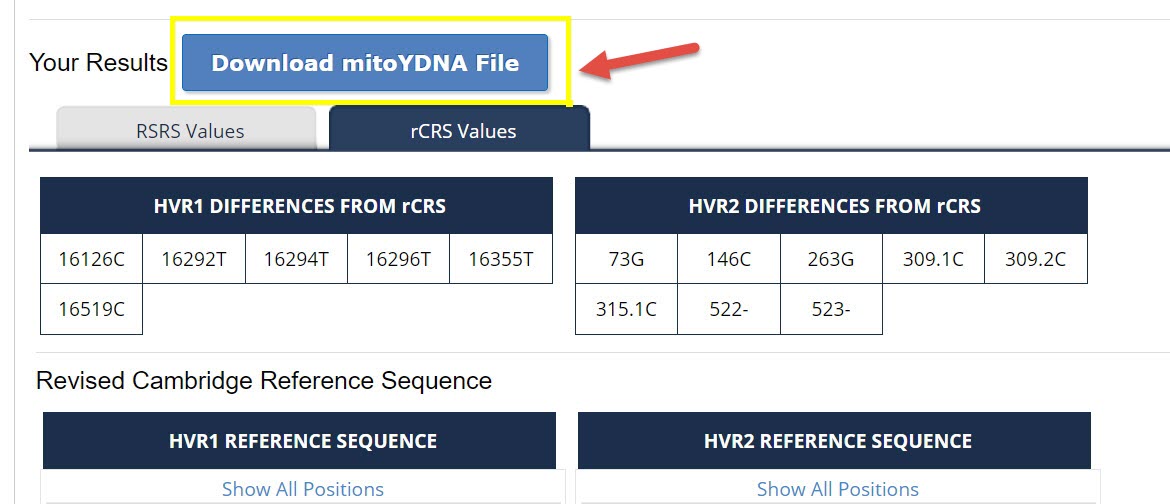 Chrome Extension
Get the mitoYDNA Chrome Extension required for downloading your mtDNA file for uploading to mitoYDNA. Then click on the 'Add to Chrome' button.
-or-
If you are already in Chrome, click on the browser "hamburger" icon (3 vertical dots ⋮ ) and then on "More tools" and then on "Extensions". At the top of the screen, search for 'mitoydna' then click to turn ON (–☉) to install the extension.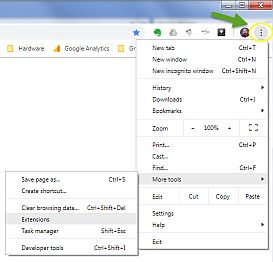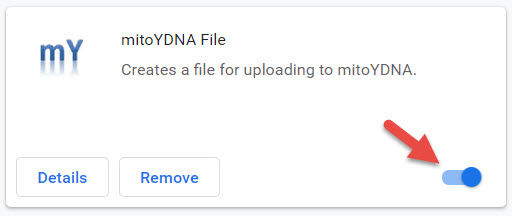 Watch this space for availability of the ability to manually enter the rCRS differences.
---