Manual Entry Help
This page has instructions on how to manually enter your DNA results into the mitoYDNA data base from:
Other - this may include:
If you enter 'Other' as the Test Company, please add comments in the
Testing Company ID
-or-
Additional Information
field of the Kit definition to indicate from which Company these results came.
---
mtDNA
The process starts when you Create a new Kit and then select the 'Manually Entered' checkbox; 3 new fields appear to allow you to enter your differences from rCRS. Enter each difference separated by one of the allowed delimiters in a string for each of the 3 fields. See the mtDNA Manual Entry HELP page for information on how to enter your data.
---
Y-DNA
When users don't have a file for upload, this page was designed to allow users to enter their STR alelle values from any of the test companies listed above. When creating a kit for manual entry, don't select a file on 'Choose File' and when you click SAVE, you will be taken to the Manual Entry screen to enter each DYS number. If you only have a 37 markers test, enter
ONLY
those 37 values and leave the DYS markers that your test didn't include at zero. Select the value from the pull-down (see screen below) which lists the normal range of numbers for this DYS marker. For multi-value markers shown in
BOLD
, enter the first value as the 'a' the second as the 'b' and so on. Entry fields are in alpha/numeric order (which is NOT true for most Results data).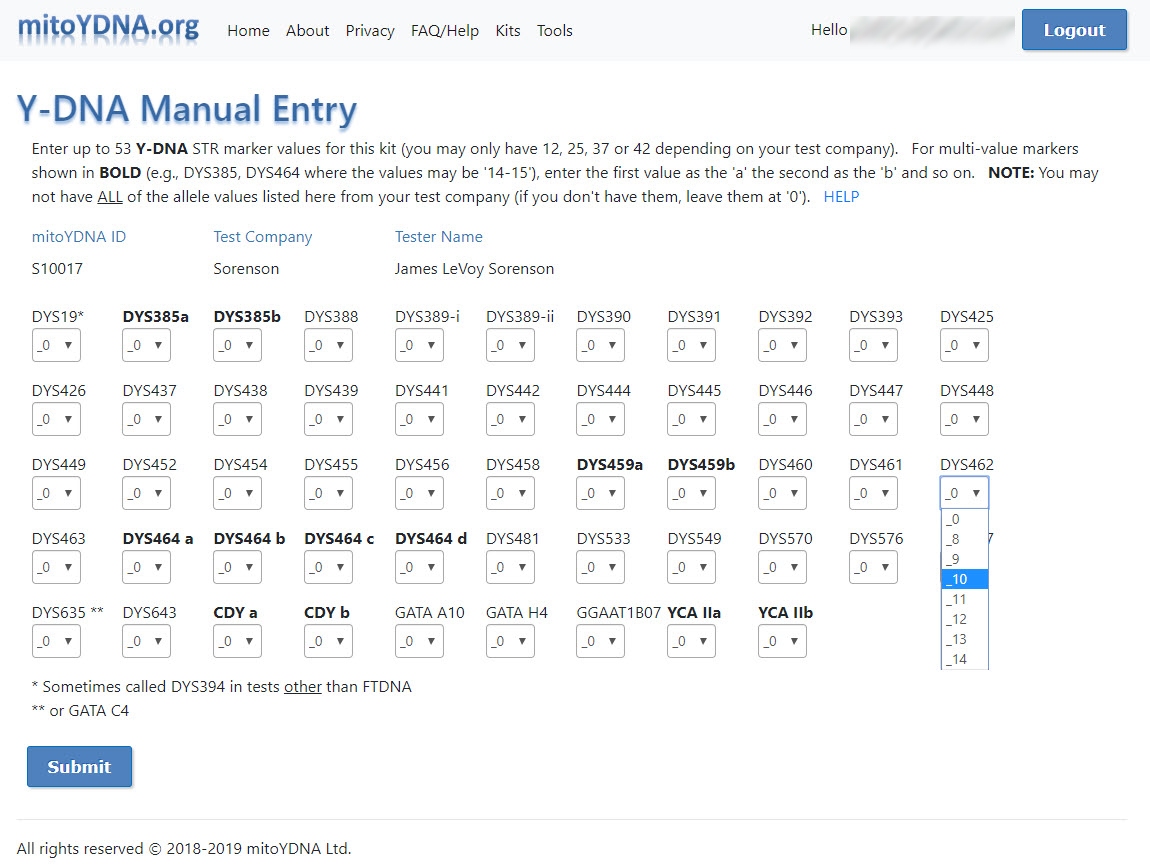 If you have a
rare
mutatation that does not fit the range of alelle values for an STR marker, please enter the closest value and contact
info@mitoYDNA.org
with your Kit number for support.
---
Conversions
DNA test companies have varying standards when they determine STR marker values for certain DYS points on the Y-Chromosome. The links and chart below define the differences for each company (an 'NT' in a column means this DYS is Not Tested for this company). These are used by mitoYDNA.org to automatically convert the data you enter (for each company) to the ISOGG/FTDNA standard to faciliatate correct matching across different company's results. To ensure we are comparing "apples-to-apples"!
| Marker | Ancestry | Sorenson | Genebase | NatGeo | Oxford |
| --- | --- | --- | --- | --- | --- |
| DYS389i | = | = | = | = | +3 |
| DYS389ii | = | = | = | add DYS389i | add DYS389i +3 |
| DYS441 | -1 | -1 | +1 | NT | NT |
| DYS442 | -5 | -5 | = | NT | NT |
| GATA-A10 | -2 | -2 | -2 | NT | NT |
| GATA-H4 | -1 | -1 | -1 | NT | NT |
---